Fishing
Gulf Fishing
Fish the Gulf of Mexico and explore why we are known for some of the best fishing around.
Your experience matters. Sit back, relax and enjoy the ride!
Meet your guide at the launch point.

Your guide will be waiting for you at the docks, ready to help you get situated on the boat.

Your adventure begins!

Head out on the water to the fishing grounds! Your guide will have already scoped out where the fish are biting today.

Need a lesson? We'll show you the ropes!

Your guide will teach you how to cast, reel in the fish—as much as you want to learn!

...and dinner is served!

Call it a day and head back to the docks where your guide will fillet your catches for you.

No cleanup necessary.

We're here to make your trip effortless. Your captain takes care of the boat while you're posting pics on the way home.
Starting Location
Location
Maximo Park
6701 34th Street South
Saint Petersburg, Florida 33711
Bathrooms

No Concession / Shop

Parking / Entrance
Time
Trip usually begins around 8 AM, but start times may vary up to an hour depending on conditions. Don't worry though, you'll know in advance.
Trip times are flexible!
Prefer to begin in the afternoon? Just let us know before you book by calling 1.844.468.8735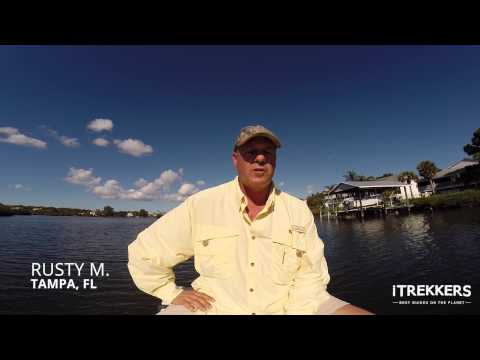 Rick was awesome, I'm glad I got hooked up with him through the website, it was nice. Local knowledge was excellent. He took us everywhere we wanted to go, put us on some fish, had a good time.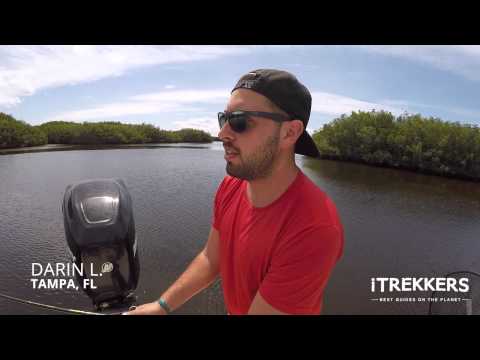 Day with Captain Mark's been great. He put us on five spots, we were catching fish every time...Yeah, iTrekkers is great and their captains are wonderful.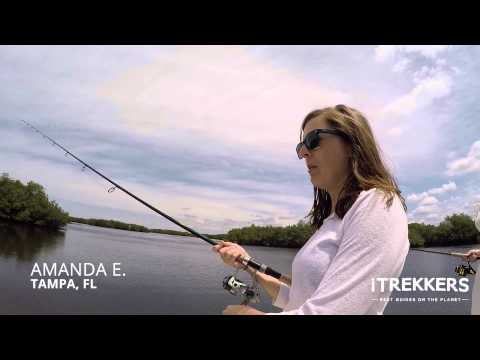 Captain Mark has been awesome, he's brought us to some really great places, and we've caught fish constantly for the past two hours, it's been a great time.
Fishing near the shore out in the beautiful Gulf of Mexico gives you a ton of flexibility for a fun filled adventure. Staying with sight of land, either fishing off the beaches, or underwater wrecks a bit further out you are open to catching large and small fish alike. Species such as Cobia, Grouper, Snapper and Mackerel can be found bottom fishing. Barracuda, King Fish, Mahi-mahi and more can be caught trolling the beaches. There are so many different options that your Captain will always have some adventure planned for a great time out on the water. Sit back and enjoy the boat ride while you get out to the prime locations. Don't forget to keep an eye out for the amazing creatures you might see along the way. Dolphins, turtles, manatees, osprey, pelicans and more are lurking either under or above the water, waiting to delight you. And remember, your Captain is there to assist with every facet of the trip. He will also take time to teach any of those that want to learn. If you're not ready for deep sea but want to catch more variety of fish, a Gulf fishing charter is for you!
Things to Know:
Your guides are experts in their field. Feel free to ask questions and learn about the process along the way!
Gratuity is not included in the price- Your guides work hard to create the best possible fishing experience for you!
You are here to relax... the guide will do everything for you.
EVERYTHING is included... just bring your own food and beverages
alcoholic beverages are allowed and encouraged! Just no glass please
No Bananas... the curse of the sea!
What's Included:
All Tackle (Fishing Rods and Reels)
Bait (live and artificial)
Licenses and Permits
Cooler with Ice
Fish Cleaning
Adult life jackets
Memories and a fun time!
Don't Forget to Bring:
Sunscreen
Food and Drinks
Hat
Polarized Sunglasses
A great attitude
Comfortable life jackets for kids if you have them
Cash for Tip
Enjoy peace of mind when you adventure with iTrekkers
Lovingly planned from
beginning to end
Our trips get a lot of TLC
We've crafted convenient and local experiences, completely planned from top to bottom. From the moment you arrive, to the moment you head home—we got you covered. All you have to do is show up!
All essential gear
is provided
Essential gear? Don't sweat it
We totally get it. Choosing the right equipment can be intimidating, not to mention expensive. With iTrekkers, all essential gear is provided and setup. Never worry about buying, storing or maintaining gear again.
Friendly guides will
show you the ropes
Trust our guide at your side
We've handpicked a network of professional guides based on experience, personality, certifications and more. With a friendly expert handling the tough stuff, you'll be free to sit back and enjoy the outdoors.
If you don't love your
trek, it's on us!
Love it or your money back!
We know you're going to love every minute of your adven ture, but if for some reason you're not satisfied, we'll refund you every penny. How's that for peace of mind?